News from the DiSSCo World
DiSSCo Prepare is an important link in the pan-European effort to build DiSSCo and ultimately make biodiversity data findable, accessible, interoperable, and re-usable (FAIR). It follows and is directly related to other projects and initiatives that all together will constitute the DiSSCo RI as a reliable data source at an unprecedented scale, using cutting edge technology to bring this data to life. 
It is part of a set of projects linked to DiSSCO:
Schematic overview of DiSSCo-linked projects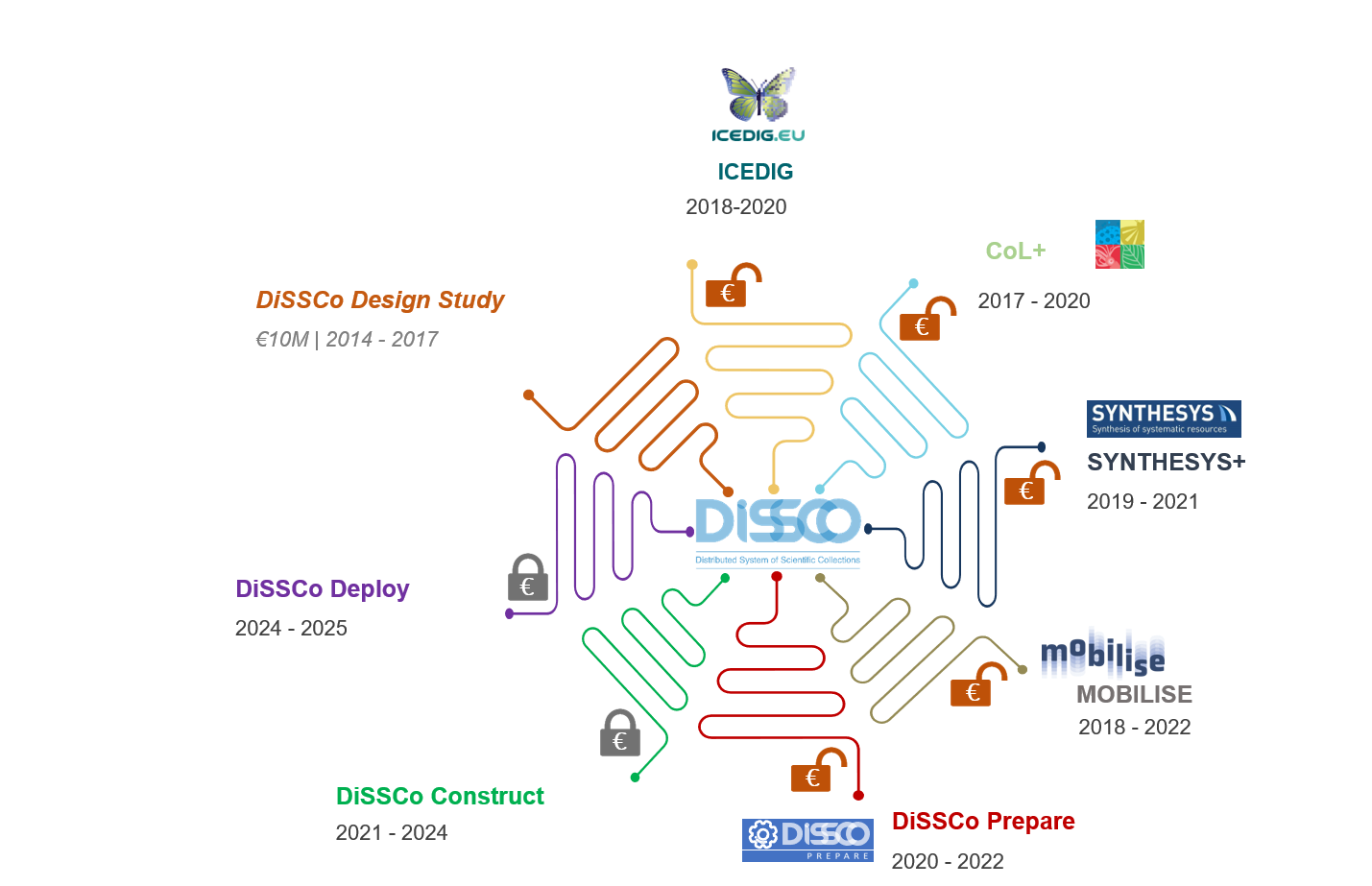 Several projects are currently ongoing, while others will follow DiSSCo Prepare. By clicking below, you can learn more about the ongoing or completed projects and access all the submitted deliverables.
A strong, stable and cohesive network
Just as DiSSCo, DiSSCo Prepare is embedded in a mature network of natural science collections-based institutions. The Consortium of European Taxonomic Facilities (CETAF) has been in operation for over 20 years and has contributed greatly to getting DiSSCo on the ESFRI roadmap.
Their collections – the data basis for DiSSCo – represent more than 80% of the world's described species and contain specimens of animals, plants, fungi, rocks or genetic resources. Owing to these collections, CETAF and DiSSCo collectively represent an unprecedented resource for scientific research across the globe and its members act as the custodians of our common heritage. If you want to find out more about the CETAF members, you can read their institutional profiles and search their information through a dedicated search engine.
ESFRI, is the European Scientific Forum for Research Infrastructures. Its Environmental Sciences Thematic Working Group report highlighted already in 2010 the need for "an integrating body for the scientific collections" at a European level. However, until now the taxonomic backbone, providing the foundational layer at the scale and precision required for further research work was a missing building block and a major limitation to biodiversity and ecosystem knowledge and therefore for the European landscape of environmental and bio-medical Research Infrastructures (RIs) which need to be equipped with adequate data. To find out more about how DiSSCo fits into this complex landscape of research infrastructures, please go here.
DiSSCo also collaborates closely with the Global Biodiversity Information Facility (GBIF); an international open data infrastructure, funded by governments. It allows anyone, anywhere to access data about all types of life on Earth, shared via the global platform www.gbif.org and through national and thematic portals. DiSSCo can take advantage of GBIF's experiences and existing infrastructure and continue to work jointly under the banner of the alliance for biodiversity knowledge during the DiSSCo Prepare phase and beyond. DiSSCo joined the GBIF network as an associate participant in 2019. Furthermore, GBIF participated as a guest in the inaugural General Assembly of DiSSCo and contributed with an intervention in which a shared goal was highlighted: "to provide FAIR data for research and policy decision makers". Equally, close collaboration was promoted to develop "critical biodiversity knowledge" and special relevance was given to the collaboration between national nodes from DiSSCo and GBIF to strengthen alignment, joint developments for data mobilization, leveraging of resources, and new data providers engagement.