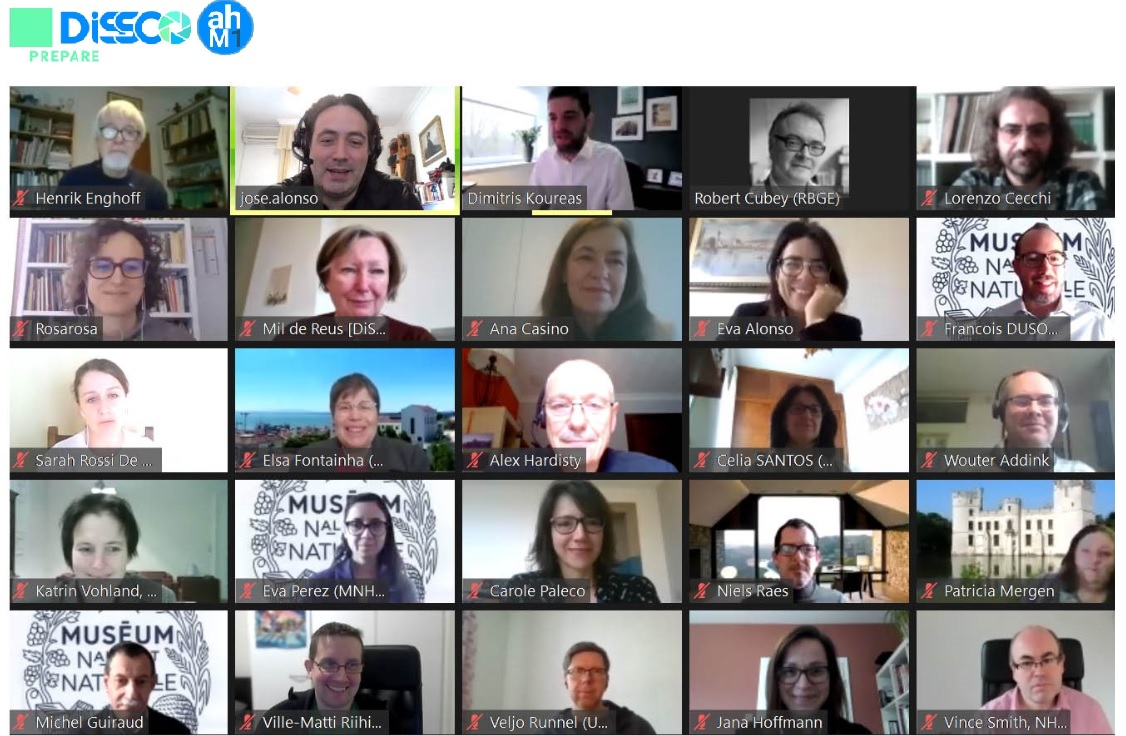 DiSSCo's first all-hands meeting (AHM1) took place last 18-22 January. The event was a great opportunity for all of us to really look closely into DiSSCo: the scope of the project, its different dimensions, all the activities, the expectations… It was also a chance to get together (if only virtually!). A week-long travel of self-assessment and good times that we summarize below.
103 participants (including representatives from the 30 beneficiaries of the project).
18 working sessions (2 plenaries).
24 conveners and co-conveners.
30 participants on average
Dr. Isabel Sousa Pinto, from the Intergovernmental Science-Policy Platform on Biodiversity and Ecosystem Services (IPBES) was the person in charge of setting the tone of the event with an interesting keynote speech titled "Needs and Opportunities for Natural Science Collections in Biodiversity 2030″, and boy did we talk about needs and opportunities during the following days!
We had a taste of many different kinds of meetings covering all of DiSCCo's work packages. Some of the working sessions, particularly the "kick-off" meetings (e.g. Procurement strategy and policy, Training Strategy and others) allowed us to get a basic understanding of the core needs and opportunities of the task, as well as a basic agreement on working procedures, sub-task management and other aspects necessary to start moving. Other meetings revolved around milestones and deliverables resulting from already well-advanced tasks (e.g. Knowledge base, Digital Specimen, etc.), which allowed us to get a glimpse of the latest developments and keep moving. All meetings had something in common, though: a contentious effort not only to work on DiSSCo's individual tasks but also to find the ways in which these tasks relate to each other and the best opportunities to have our teams engage and work together.
An update of the work done (wp by wp)
WP1: User needs and socio-economic impact
Building on the huge number of user stories collected both in ICEDIG and DiSSCo Prepare, we made good progress towards a condensed list of functional demands for DiSSCo's infrastructure and services that will inform the subsequent technical work of WP5 and WP6.
Criteria for prioritization and digitization and indicators of socioeconomic impact were also part of the discussion, and there is work to do on both fronts. With regard to prioritization and digitization, we agreed that there is a need for analyzing institutional digitization plans and put them face to face with other drivers such as national priorities, funding opportunities, technical constraints, etc.  As for the indicators of socioeconomic impact, we will explore the suitability for DiSSCo of the main RI frameworks already available (reports by OECD and ESFRI). It is an exploration that will necessarily have to run in parallel with an exercise in creativity and innovation, given the particularities of environmental RIs like DiSSCo, where quantitative measures do not work just always.
WP2: Human resources, training and users support
The AHM1 saw the kick-off meeting for the definition of DiSSCo's Training Strategy, a huge challenge considering the scope of the task. We dealt with the basics (working procedures, tasks allocation, etc.) and agreed to make an effort to align with other projects' outcomes and sister initiatives (e.g. DEST as a platform for allocating training resources and SYNTHESIS+ deliverable 3.2 (roadmap) due next April).
WP3: Capacity enhancement
Part of our work on WP3 revolved around the current state of digitization at the level of DiSSCo's partners and what the attendants found as constraints and blockers on the way of data mobilization.  There was a basic agreement on the convenience of using previous documented workflows and standards (e.g. from iDigBio and previous EC projects). This is a task that will have to work close with DiSSCo's Knowledgebase and other tasks in WP6 and WP8.
Work on WP3 also gave us time to think about competencies and capabilities. Overall, there seems to be more support among DiSSCo partners for moving forward to a digital maturity/capability self-assessment tool for organizations and/or teams than for a DiSSCo competency framework. Our discussion about secondment and distributed working practices showed that physical secondment seems to be less of a priority than when the task was originally envisaged. Call it a consequence of Covid but we understand the relevance of piloting distributed development team.
WP4: Business framework
We talked money as well during AHM1. Specifically, we assessed the best methodology for DiSSCo's cost book (indirect cost). Logically, many questions arose, given the complexity of the matter. The challenge here is to come up with a method that needs to be simple enough while considering the huge diversity of institutions that constitute DiSSCo's landscape. A model that is also worthwhile in terms of cost-benefit and cover all indirect costs, which are not precisely easy to gather. Lots of moving parts there!
WP5: Common resources and standards
One of the most satisfactory experiences during the AHM1 was getting to see a first draft version of DiSSCo's Knowledgebase, after which a discussion about next priorities followed.
We also tried to get ahead in the construction plan for improving DiSSCo's infrastructure in the areas of geo-collection data and taxonomic services. We had presentations about GeoCASe2.0 and Catalogue of Life as use cases and discussed the interactions of them all. All are moving rapidly ahead in modernizing their technical infrastructure yet there is still work ahead for increasing integration among them and DiSSCo. The fact that we will be incorporating a number of services (ELViS, ECAS, SDR, Knowledgebase and Collections Monitoring Dashboard) will add complexity to the task.
WP6: Technical architecture and service provision
The Open Digital Specimen, one of the key cross-cutting concepts of DiSSCo and arguably the central piece of WP6 also deserved a good chunk of the time we spent working at the AHM1. We had good discussions regarding Collection Management System (CMS) interoperability and FAIR Digital Object architecture for DiSSCo, the latter based on RDA recommendations. We also deal with a topic that promises to bring interesting discussions in the very near future: the convergence between DiSSCo's DS and BCoN's Extended Specimen models. Have you heard about certain consultation that opens next February 16? Get the details here.
WP7: Governance, policy and legal framework
In terms of DiSSCo's governance and legal entity, we spent some time brainstorming and discussing about key concepts and elements for refining the interim DiSSCo governance model so that it fully address the future legal entity of the project. In order words: we have taken up the challenge of developing a general RI strategy for DiSSCo's new legal definition.
Speak of the devil… we also took a look at the study on the proposed legal entity model(s) with the help of our legal advisor. The ERIC model is understood to be more suitable for our purposes given that it will grant DiSSCo more leverage for governmental support and long-term sustainability. That being said, the model should allow for CETAF to keep playing the important role it plays today and should not cause practice-related earthquakes in our partners. Conclusion: we will continue working on this front.
We also talked about a framework to align and self-assess DiSSCo partners' policies to address the needs of DiSSCo services. The core of the discussion revolved about two things: the online checklist tool, for which we focused on some of the users journeys, and the user stories and how they are translating through into design requirements for DiSSCo's policy self-assessment tool.
WP8: Stakeholder engagement and communication strategy
Getting to the end of this quick review, we deal now with WP8 -Stakeholder engagement and communication strategy. We had some time during the AHM1 to review our engagement and communication strategy and to talk about National Nodes engagement and the Funders Forum. Most of our time, however, went for an early discussion of the Thematic Specialization Plan, one more big task waiting for us round the corner.
Trying to summarize a full week of specialized work in a RI for Natural Science Collections is tricky. Let us just invite the reader to contact us should they have any doubt or need for further information.
An image is worth a thousand words, so allow us to end this piece with an image that compiles the opinions of all the attendants regarding what DiSSCo's AHM meant for them.