The virtual conference of Biodiversity Information Standards (TDWG) will be held 18–22 October 2021 and will revolve around the topic "Connecting the world of biodiversity data: uniting people, processes, and tools".
TDWG 2021 will consist of a full week of keynotes, symposia, panel discussions, contributed presentations, an unconference, as well as social hours and poster sessions. Most sessions will be scheduled between 1100–2300 UTC, but registered participants will be able to view recorded sessions within a few hours of recording.
TDWG 2021 will be hosted on the virtual platform, Whova, by the https://biodiversity.research.ufl.edu/with Director Dr. Pam Soltis at the University of Florida, Gainesville, along with the Florida Museum of Natural History and iDigBio.
Registration: https://reg.conferences.dce.ufl.edu/Basic/1400081801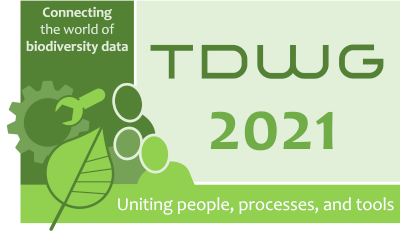 TDWG 2021 Call for Abstracts
You are still on time if you are interested in submitting your abstract for the conference. Abstracts are required for all contributions (oral presentations and virtual posters) and will be published in TDWG's open access journal, Biodiversity Information Science and Standards (BISS). The deadline for the submission of abstracts is 2 August 2021. Abstracts will be peer reviewed and final approval for publication requires payment of any registration fees by the presenter. Content may be presented either live or pre-recorded for TDWG 2021.
Please, follow this link for instructions related to abstract submission.
DiSSCo offers
 

different technical knowledge platforms

 

at the scientific community's disposal:
 Get the latest technical posts about the design of DiSSCo's       Infrastructure
A preview of experimental services and demonstrators by the DiSSCo community
Code hosting for DiSSCo software control and collaboration
DiSSCo is on Twitter. Follow the project's feed for updates and new developments.