Welcome to DiSSCo Prepare, the Preparatory Phase Project of DiSSCo
! 
With the official presentation of DiSSCo to the ESFRI community in September 2018 began the adequately titled Preparatory Phase. During this phase, DiSSCo will raise its overall maturity and will position itself to implement its construction programme. It will do so by improving its overall readiness (IRL) of embarking on specific implementation actions and by delivering a comprehensive Construction Masterplan. 
Join us for DiSSCo Prepare, the Preparatory Phase of building the DiSSCo RI!
To learn more about the timeline of DiSSCo and how DiSSCo Prepare fits, please visit our timeline page.
DiSSCo Prepare is the primary vehicle through which the DiSSCo research infrastructure (RI) will raise its overall maturity to facilitate implementing construction in 2023. DiSSCo Prepare has two primary goals:
Improve DiSSCo's overall Implementation Readiness Level (IRL), that is,

its ability to execute construction and effect related actions based on clear, actionable guidelines with minimum risk

. DiSSCo Prepare will raise DiSSCo's IRL across five critical dimensions: scientific, technical, organizational, financial and data readiness.

Deliver the DiSSCo Construction Masterplan.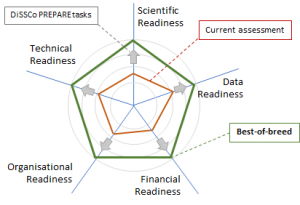 The five dimensions of implementation readiness from which the overall IRL is evaluated, identify critical areas that will improve DiSSCo's ability to successfully construct and later operate as a pan-European RI. Each dimension is separately addressed by a specific Work Package (WP) that includes distinct targets, actions and tasks. 
As the product of the outputs of all of its content related tasks, DiSSCo Prepare will also deliver a comprehensive and integrated DiSSCo 'Construction Masterplan'  The Masterplan will be the project's final output and will effectively be the organisational, financial and technical blueprint for construction of the DiSSCo RI including establishing it as a legal entity.